Here's the thing.  I like to dine out.  A lot.  And many times I can't justify the expense, especially since I have this new awesome kitchen and I love to cook.  But right now, this week in the Spring, eating out is SOOO much fun and really a community minded thing to do.  It's Restaurant Week!  Check out the link and see all the great menus and try someplace new you have been dying to (like Hakkasan for me)  or go to a tried and true place (like Rx Boiler Room for me later in the week). 
So, to start off I went to Buddy V's in the Venetian, the love child of Cake Boss' Buddy Valastro and Elizabeth Blau.  I was pleasantly surprised and loved the décor (Moment of Truth – had they brought me a bowl of the polenta croutons instead of my Caesar salad I'd have been thrilled!). Sorry for the quality on these pics, they were taken with my phone.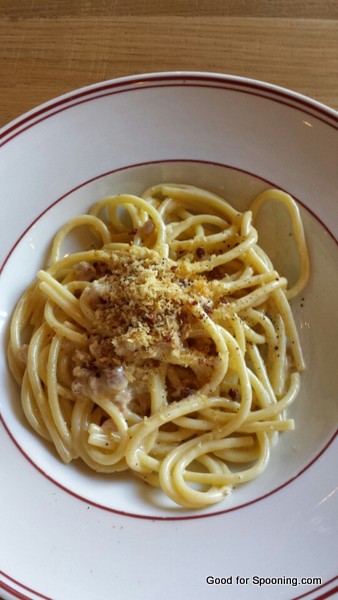 The most unusual thing happened there.  If you have been following along, you know I shaved my head last week for St. Baldrick's and I am now nearly bald – watch the video here if you haven't already.  The consequence of having no hair is that I am always COLD and intermittently wear scarves and hats to combat that.  Well, needless to say, some people mistake my baldness for me being a cancer patient.  While at Buddy V's a woman walked up to me and in the most glowing tones, but with pity in her eyes, told me how gorgeous I was and that my eyes were stunning.  Of course I was flattered, who wouldn't be?  I felt I had to explain my hairless state and told her of St. Baldrick's.  She was really impressed, but it got me to thinking – dangerous…I KNOW.  How do I treat cancer patients?  Do I go out of my way to say something complimentary to them?  Do I smile with pity and look away?  Being bald is an eye opener for me and is really making me more sympathetic and aware of what cancer patients might be feeling in regards to their appearance.
And lastly – I have been dying to get my butt into Hakkasan and Restaurant Week was the perfect excuse.  OMG it was phenomenal.  YOU should go!  Here's the big bonus – spend $50.14 on dinner, get a fab meal, donate 18 meals to the community AND get a $50 gift certificate for use the next time you dine (before 14 April).  What's not to love about that?  EVERYTHING we had was exceptional and I can't wait to go back and eat my way through the entire app menu alone.
In addition, I went to the first of the Sunday Suppers series at Johnny Church's MTO Café.  WHAT FUN! Watch for that post later this week!